Easy Read NDIS Quality and Safeguards Commission fact sheet
March 2018
As many of you know, the National Disability Insurance Scheme (NDIS) Quality and Safeguards Commission is preparing to start its important work in South Australia and NSW on 1 July 2018.

Information for participants and providers about the role of the NDIS Commission is now available in an Easy Read format. Please feel free to share the new Easy Read fact sheet with your clients and colleagues.

You'll find the Easy Read version here (PDF).

All versions of the document are available here.
Easy Read National Disability Strategy and Action Plan
December 2017
The National Disability Strategy 2010 – 2020 (NDS) is an initiative of the Australian Government Department of Social Services (DSS). It aims to drive a more inclusive approach to the design of mainstream policies, programs and infrastructure so that people can fulfil their potential as equal citizens.
Since the NDS was released in 2010, DSS has produced two implementation plans to explain what they've been working on:
Laying the Groundwork 2011–2014
Driving Action 2015–2018.
At the moment, DSS is working on ideas from the second implementation plan and has called it the Government Action Plan. This plan represents the Australian Government's commitment to actions that will drive implementation of the NDS within Australian Government portfolios.
We had the privilege of converting this document into Easy Read, which will increase accessibility to a wider audience, especially people with intellectual disability and adults with low levels of literacy. You can find the Easy Read version and other DSS resources on the DSS website.
New plan for Aboriginal and Torres Strait Islander people with disability
October 2017
In October 2017, The Federal Government released a plan to improve the outcomes for Aboriginal and Torres Strait Islander people with disability. The first of its kind, this plan recognises that Aboriginal and Torres Strait Islander people with disability face unique challenges, particularly if they live in remote areas.
We worked with the Australian Government Department of Social Services to create an Easy Read version of the plan to make this information much more widely accessible. You can read the Easy Read version of the plan on the Department of Social Services website
AnglicareSA
September 2017
We're currently working with AnglicareSA on a broad range of publications throughout the organisation – from information about the NDIS to consent and privacy forms. AnglicareSA have committed to the use of Easy Read as a vital engagement tool to connect with their various audiences – including people with disability, adults with low levels of literacy and Aboriginal and Torres Strait Islander peoples.
Australian Unity
December 2016
As new entrants to the disability services sector in NSW, Victoria and Queensland, Australian Unity need messaging that will cut through. Working with us on Easy Read and plain language materials has helped Australian Unity communicate clearly and succinctly, putting their unique selling points front-and-centre.

Australian Taxation Office
September 2017
We're a member of a panel of suppliers to the Australian Taxation Office for the Provision of Communication Services and, through this panel, have been engaged to edit hundreds of letters, email and SMS communications into plain language. Called 'Outbound correspondence', the letters, emails and SMS messages are targeted at a range of audiences, including everyone from the general public through to taxation specialists. Our goal is to help the ATO connect clearly and succinctly with the people it is targeting so they understand why they are receiving the correspondence, what they need to do about it, how they can do it and when they need to do it by.
Child care compliance flipchart
April 2018
The Child care compliance obligations flipchart has been designed to educate Family Day Care services and educators on their obligations under the Family Assistance Law, and the consequences when they don't comply.
We've been working very closely with the Department of Education and Training to create this reference guide.
We designed this flipchart using the Department of Education and Training's branding guidelines and incorporated design elements and infographics that emphasise key messages in the content.
You can view the fully accessible version online at the Department of Education and Training website.
Australian Federal Police
June 2017
Since 2016, we have had the pleasure of working with AFP on a range of materials supporting their 'Think U Know' campaign. This campaign is aimed at young people, parents and other adults to help them understand the risks of online communication. This work included developing a range of infographics and symbols for three fact sheets and a PowerPoint presentation.
NSW Elder Abuse Helpline and Resource Unit
March 2017
In 2017, we created a pocket guide for the NSW Elder Abuse Helpline and Resource Unit. This work included concept development, editing, design, layout and accessibility. The pocket guide also included translated text in 23 community languages and custom illustrations.
Marketing advice to get parents and employers behind My Skills and VET
July 2018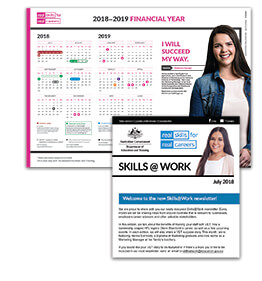 In July 2018, we completed a large communications project for the Australian Government Department of Education and Training (AGDET). AGDET wanted to raise the profile and benefits of vocational and education training (VET) to parents and employers. To achieve this, we teamed up with Eleven Strategic Communications and developed platforms and tools to more effectively implement their national VET strategy. These included:
an earned media strategy, including a digital marketing pack for government and an information pack for Ministers, members of parliament and Senators
a media kit for VET Alumni
a website strategy for www.myskills.gov.au, including accessibility recommendations
a digital engagement strategy for employers
a financial year print calendar using the real skills for real careers branding
an events plan detailing what events to take part in to engage with parents and employers
a 12-month newsletter plan and the ongoing production of monthly newsletters to share the latest news with employers.
To find out more about VET, visit www.myskills.gov.au.
A new website for BDS Support Services
November 2017
BDS is a disability support provider in Melbourne's north. In 2017 the Information Access Group developed a new brand for BDS with the intention of creating a professional yet friendly identity that maintained the family-oriented nature of the organisation.
We also worked with BDS on a communication strategy that would help the organisation navigate the transition to the NDIS.
A key part of that strategy was a new accessible website. We worked with BDS to create a website that is easy to navigate, accessible and functional. Content is written in plain language and the website has a strong emphasis on making pertinent information about the NDIS easy to access for people with disability, their families and carers.
This website is currently WCAG 2.0 AA compliant. Visit the BDS website.
People With disabilities WA
September 2017
We have worked with People With disabilities Western Australia (PWdWA) on and off for a few years now. This year, we have been thrilled to help PWdWA take Disability Safe Week to a new level. A fresh, exciting brand, a beautiful new Easy Read website and a range of Easy Read resources have helped increase awareness about this important event. Visit the Disability Safe Week website to find out more.
Australian Federal Police
June 2017
In 2016, we started working with the Australian Federal Police on two exciting cyber safety campaigns: Cyber Safety Pasifika and Think U Know. Both of these campaigns are designed to improve cyber safety among children and young people. The Cyber Safety Pasifika campaign helps to educate parents, children and young people throughout the Pacific region. Think U Know is a national campaign aimed at increasing awareness in Australian schools and households. We have contributed editorial, design and accessibility expertise to both of these campaigns, along with some exciting work in branding and web development for Cyber Safety Pasifika.
Northern Support Services
May 2017
With disability service providers starting to make marketing a priority in this new, competitive environment, Northern Support Services (NSS) understood the need to find a new and strategic way to engage with existing and potential clients. As an organisation that began in 1947, our brief was to develop a fresh new look while still maintaining the rich history of their brand.
The logo we designed for NSS builds on their previous brand and colours to retain their identity and community connection, but presents a more contemporary look as the organisation moves into its 70th year of operation. We implemented the brand through a soft launch at their annual Open Day, displaying it across a suite of marketing materials including pull up banners, tablecloths, postcards, magnets, keyrings, a letterhead, 'With compliments' slips and business cards.
Australian Public Service Commission
March 2017
Since early 2015, we've been working with the Australian Public Service Commission (APSC) on typesetting, accessibility and proofreading projects, including more than ten suites of program materials. Each suite contains multiple Word documents with varying lengths and content. The materials facilitate APSC's internal, sequential staff training and development programs and include documents such as participant workbooks, evaluation forms, and implementation and facilitator guides.
NSW Government Department of Family and Community Services
June 2016
The disability sector in NSW has been going through a substantial period of change and the NSW Government Department of Family and Community Services (FACS) has been using Easy Read and plain language communications to connect in more meaningful ways with their various audiences. Recent projects we have worked on with FACS include the development of the FACS Digital Accessibility Standard and Easy Read materials to support the roll-out of the NDIS in NSW.
Sorry, there are no items to show.
Sorry, there are no items to show.
---