Inquiry into Adult Literacy and its Importance – Our submission
28 May 2021
The House Standing Committee on Employment, Education and Training was seeking submissions from the public for its current inquiry into adult literacy. Our submission has been authorised for publication and you can now read a standard, plain language and Easy Read version of it online.
Find out more about out submission
How COVID-19 highlighted the need for more inclusive communication
27 May 2021
Communicating clearly to everyone at once can be a tricky task. When coronavirus (COVID-19) emerged in March 2020, it became clear there was a need for all levels of government to provide inclusive communications to everyone at once.
Find out more about ways to achieve inclusive communication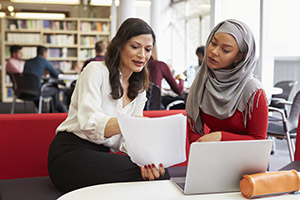 Natural disasters worsen inequality for people with disability
27 April 2021
The University Centre for Rural Health (UCRH) surveyed people with disability and their carers about their experiences during the 2017 flood in the Northern Rivers region of New South Wales. Responses to the survey revealed that natural disasters such as floods, can worsen inequality for people with disability.
Find out more about the experience of people with disability during natural disasters
Have you thought about Easy Read for your web content?
24 March 2021
Over the past 11 years, we've seen Easy Read grow and change to make sure it continues to meet the needs of its target audience, especially people with disability. In recent years, more organisations are also wanting to offer their online content in an accessible format. This has resulted in a growing demand for Easy Read web content.
Find out more about the recent Easy Read web content projects we've worked on
Have you considered Easy Read for your language translations?
24 March 2021
Communicating with people with diverse literacy needs has never been more important – especially as we consider the impacts of the COVID-19 pandemic and the number of natural disasters that have affected our community.
We encourage our clients and colleagues to consider translating Easy Read into languages other than English to help get vital information to the people who need it.
Find out more about using Easy Read for your language translations
---