Australian Electoral Commission Easy Read Guides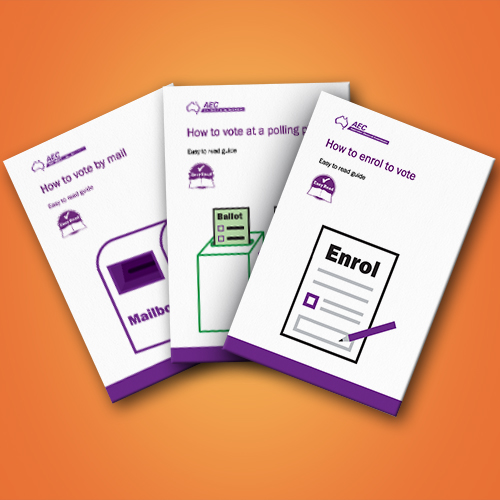 April 2019
In anticipation of the 2019 federal election, the Australian Electoral Commission (AEC) decided to update three of its easy-to-read-guides:
How to enrol to vote
How to vote at a polling place
How to vote by mail.
The AEC wanted to update the guides to ensure that the target audiences – people with disability, adults with low levels of literacy and people who speak English as a second language – have the information that they need to successfully take part in the next federal election.
enrol as a voter prior to the election
vote in the election at a polling place on election day
become a postal voter and vote by mail.
These guides won the 2019 Clear Communication Awards – Easy English category.
You can find all three guides on the AEC website.
Once we have created your Easy Read content, we recommend publishing it as a webpage. This is in addition to accessible PDF and text-only Word formats, as HTML is the most accessible format for many users. We can create an HTML version of your content and can also publish and host it for you to make this a straightforward process.
To see what's possible with your Easy Read online, you can view our demo.
Why publish Easy Read as a webpage?
We believe the most accessible way to share information online is to publish it as a webpage. Compared to PDF, webpages:
are more accessible for people who use assistive technology, such as screen readers
provide a better experience for people on mobiles and tablets – the content reflows and resizes to suit the device
load faster for people on slow internet connections
are easier to share than a document download.
Publishing content as webpages is also in line with the digital accessibility guidelines of the Australian Government, Victorian Government, NSW Government, and SA Government.
You can read more about the issues with the accessibility of PDFs in our article about PDF viewer applications and screen readers.
Benefits of our Easy Read HTML
Our Easy Read HTML has additional features to support the audience:
Listen function – users can choose to listen to a high-quality audio version of the content. It highlights words as it reads and users can change the audio speed, pause and skip.
Easy navigation – we split the content into sections, so users don't have to scroll through one long webpage. Clear navigation buttons let users move through the sections.
Contents menu – users can expand the menu and jump to a different section or go back to your website.
PDF print option – users can download the full accessible PDF version of the Easy Read.
Publishing and hosting
We can publish and host your HTML content for you. This means you don't have to worry about creating new pages on your website or uploading and formatting the HTML in your CMS.
We will provide a link to the content at the same time as we supply your other final files. You can publish the link on your website alongside the link to download the Easy Read PDF and Word versions.
If you prefer, we will supply the packaged HTML files so you can upload the content in your CMS and host it yourself.
How does the hosting work?
We publish the HTML as a 'static' website. It is a packaged folder with HTML content, CSS styling code, image files and JavaScript code for interactivity. Because it is static, it is very secure and easy to host. It is not connected to a database, which means there is nothing to 'hack'.
Examples of our work in this area
Here are a few examples of documents we have published in the Easy Read online format.
---