Australian Electoral Commission Easy Read Guides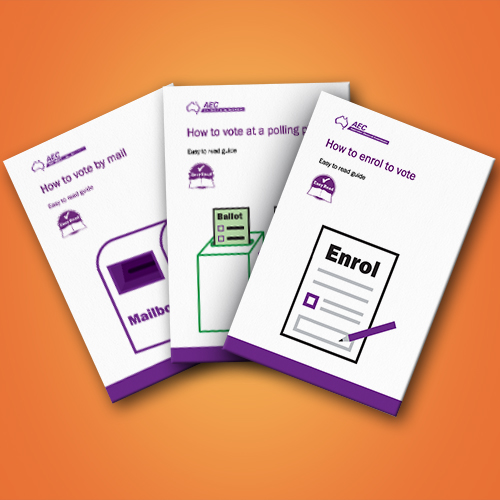 April 2019
In anticipation of the 2019 federal election, the Australian Electoral Commission (AEC) decided to update three of its easy-to-read-guides:
How to enrol to vote
How to vote at a polling place
How to vote by mail.
The AEC wanted to update the guides to ensure that the target audiences – people with disability, adults with low levels of literacy and people who speak English as a second language – have the information that they need to successfully take part in the next federal election.
enrol as a voter prior to the election
vote in the election at a polling place on election day
become a postal voter and vote by mail.
These guides won the 2019 Clear Communication Awards – Easy English category.
You can find all three guides on the AEC website.

Easy Read is sometimes called Easy English or simple English.
Easy Read is information that is presented in a way that is very easy to understand. In its simplest form, it uses images to support text, large font sizes and plenty of white space. Easy Read is currently used extensively for audiences with disability. However, it is also becoming more widely used for audiences with low literacy levels, in First Nations communities or where English is an additional language – this includes culturally and linguistically diverse communities and people who use Auslan as a first language.
Easy Read content can be used on any type of publication, from a marketing booklet to a website, to an extensive report. To date, we have worked on everything from consultation papers to consent forms, policies and procedures, surveys and even legislation.
If it's right for your audience, we can also produce material in plain language. Our team of experienced editors work with you to make sure the content meets the needs of the people it's intended for.
Watch this fun video that explains the benefits of Easy Read for various audiences.
An example of our work in this area
Frequently asked questions about Easy Read conversions
What is the process for quoting?
Usually, we ask that our clients send us a draft of the document before we quote. That way, we can assess the complexity of the material before we begin. It's important to remember that an Easy Read conversion is not a word-for-word translation. This means that we can work from draft content if your timeframes are tight.
You can request a quote here.
How long does a conversion take?
The length of the process will vary according to the length of your document. At the Information Access Group, we pride ourselves on our ability to turn document conversions around very quickly and meet the needs of our clients, who are often under tight deadline pressure. When considering undertaking an Easy Read conversion, we encourage you to aim for publishing an Easy Read version at the same time as the mainstream document.
What images do we use?
We use photographs and custom images in Easy Read publications. We don't use Boardmaker. We create images for our clients and we also have access to a wide range of photographs, including a beautiful range of photos that is exclusive to the Information Access Group.
Does the Information Access Group create accessible files?
Many of the documents we produce are published online. At the end of the conversion process, we provide an accessible PDF that has been tagged and checked to ensure it is suitable for online publishing, as per WCAG 2.1 accessibility requirements. We will also provide a text-only Word document if required.
Find out about our accessible document services.
Can we create a webpage of your Easy Read content?
In addition to accessible PDF and text-only Word formats, we recommend publishing your Easy Read content as a webpage. This is the most accessible format for many users. We can create an HTML version of your content and can also publish and host it for you to make this a straightforward process.
Read more about our Easy Read online services and the benefits of HTML over PDF.
Can we test your materials with a focus group?
We regularly test materials with different audience groups to make sure that the content meets the needs of the people it is intended for. We specialise in testing materials with people with intellectual disability.
---