Safety from violence, abuse, neglect and exploitation
10 September 2021
Australians are, and should be, concerned about widespread reports of abuse and exploitation of people with disability. The Disability Royal Commission into Violence, Neglect, Abuse and Exploitation of People with Disability recently released its Fourth Progress Report.
Find out what the Royal Commission has been doing to keep people safe.
Easy Read helps you reach a wider audience
10 September 2021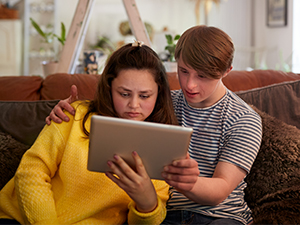 Publishing content in Easy Read helps you reach a wider audience, including people with disability, First Nations peoples, culturally and linguistically diverse communities and people with low levels of literacy. This format uses images and simple language to present information in a clear, visual way.
Technology, ethics and human rights
9 September 2021
People with disability need to have access to information about their everyday lives. This is important as a basic human right, and for privacy, safety and protection from discrimination. They also need the opportunity to have a say about decisions that affect their lives. To make sure this happens, they might need both accessible technology and the opportunity to have a conversation with the right person. The Australian Human Rights Commission has released its Final Report into Human Rights and Technology.
Read more about the report here.
A new era for the Information Access Group
30 August 2021
It is with a mixture of excitement and sadness that our Founder, Lyndall Thomas, announces that, after more than 12 years at the helm, she is passing on the baton. Sean de Kretser, a trusted member of our team who has been with us for nearly five years, has taken on the leadership of the Information Access Group through an internal management buyout. Sean is a respected colleague who shares our business purpose and commitment to our team.
Make your branding more accessible
25 August 2021
Being on brand doesn't have to come at the cost of being accessible. You can have a unique design while including people with different vision impairments. There are many elements that create the foundation of an accessible brand, such as colour contrast, larger text sizes, clear fonts and sentence case.
Read more about accessible branding
---