Annual Progress Reports 2018 and 2019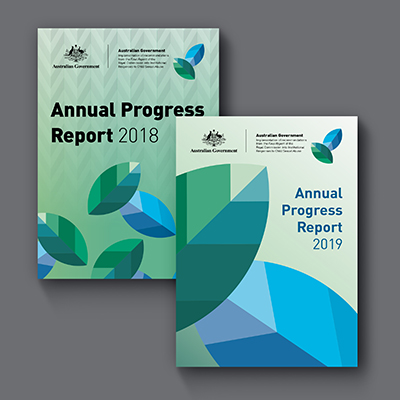 December 2019
The Annual Progress Report: Implementation of recommendations from the Final Report of the Royal Commission into Institutional Responses to Child Sexual Abuse is part of the Australian Government's response to the work of the Royal Commission. Each year until 2022, the Government will report on the how the Royal Commission's recommendations are being implemented. The Information Access Group had the honour of working on the first report in 2018 and again on the most recent report in 2019.
We worked with the Attorney General's Department to edit and design each of the reports, which both included a foreword from the Prime Minister and the Attorney General. Our work on each project included writing and editing highly sensitive and complex information in plain language. Our editors have a thorough understanding of 'trauma sensitive language' and incorporated this into their plain language work.
Each of the reports were developed in consultation with a large number of Australian Government departments. This meant that there were multiple authors and tones of voice throughout the supplied content for each report. Our editorial team made the text and tone consistent and substantially simplified the text. We edited the content to a Year 11 level to make sure that it met the needs of the range of people in the community. Each year we have developed a design concept for the report that supported the existing brand but had a fresh look. Due to the sensitive nature of the content, we had to make sure that all images were gentle and respectful.
During both projects, we provided high levels of customer service to meet tight deadlines. We also needed to take in multiple rounds of changes right up until the very end of the document design process. This project has been both challenging and rewarding. Each year our client has been thrilled with the final product and are grateful for our responsive service.
---