Having been a successful part of the disability sector in Canada for more than 30 years, Microboards are now beginning to grow in popularity around Australia.
For those yet to hear of the concept, a Microboard is a formalised, small group of trusted family and friends that works alongside a person with disability to plan, create and safeguard a good life for that person. The group of people that make up the Microboard, form a legally recognised organisation called an incorporated association. Families are also able to seek funding through the NDIS to set up a Microboard.
How can Microboards help?
Sheree Henley is a Director at Microboards Australia and said that after speaking with families around the nation, she learned that there were three common problems they faced, including:
struggled to come up with, or implement, ideas to make sure their family member has a good life
didn't feel that service providers were meeting their needs
were worried about what would happen to their family member when they could no longer support them.
Sheree said that having a Microboard helped families deal with the first issue by allowing them to tap into networks to come up with and implement good ideas to enrich the life of the person they are caring for. She shared the story of Isaac as an example.
"Isaac is a 20-year-old young man with a complex disability who lives in Canberra. He has a Microboard called Isaac's Band of Brothers & Sisters. His Microboard helped to generate ideas for work around Isaac's interests and skills and it became clear that being a delivery man might be something he would enjoy. A Microboard member connected Isaac to a local newsagent, who was able to supply him with unsold magazines to deliver to doctor's surgeries."
Microboards can also help with the second issue, as they can be set up as employers, which means supporters can be hired and trained to meet the needs of the person with disability. Sheree shared the story of Eli as an example.​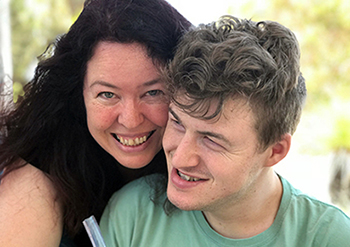 "Eli is a 26-year-old young man with Angelman's Syndrome who lives in Perth. He has a Microboard called Blazing Condor Soul Explosions. His Microboard has supported Eli to recruit, oversee and train his staff to manage his complex medical issues and reduce his challenging behaviours. They have been able to do this through collaborative team meetings, data collection and practice reflection."
Finally, Microboards can help with the third main issue because the support of having a Microboard means the person with disability becomes less reliant on their immediate family. Sheree shared the story of Shanti as an example.
"Shanti is a Canadian woman in her forties with a complex disability and challenging behaviours. Shanti has had a Microboard for 29 years, which means that even though her mother lives a nine-hour drive away, she can continue to live in her own home and be a part of her local community with the support of her Microboard and her paid supports. Vela Microboards Canada also keeps in touch with her and her Microboard to make sure all is well in her life."
Creating a Microboard
Before you can create a Microboard, you will need to think about the people in your life that you know and trust, and who would be willing to be a part of the Microboard. Unfortunately, many families who care for a person with disability, can be socially isolated, meaning the number of the candidates for the Microboard are limited. According to Sheree, this isolation can happen for a number of reasons.
"There can be a general feeling of being unwelcome in their community, challenging behaviours of the person with disability can make it difficult to take part in the community, as well as the exhaustion of carers and the general business of life."
Sheree says it's important that families take the time to build connections in the community, so they can access the support of a Microboard.
"Ensuring your family spends regular time in regular (not disability specific) environments around a shared interest can lead to relationships forming. This may be a church group, a sporting club, a gardening club and so on."
Microboards are generally setup as incorporated associations, which includes a committee of people who take on roles and responsibilities like President, Secretary and Treasurer.
Sheree says the steps involved in becoming incorporated are fairly easy.
"A quick online search about incorporated associations in your state and you will find instructions on how to go about it.
"The important thing to keep in mind is that your incorporated association is going to be around your family member who is a very vulnerable person. If the members of the Microboard do not enact the important values and practices that promote choice and control and enable their human rights, a Microboard could do some unintentionally dangerous things."
To find out more about Microboards, you can visit the Microboards Australia website.
---