Each member of our team is passionate about the role we play in making a positive
impact in the community. Learn more about the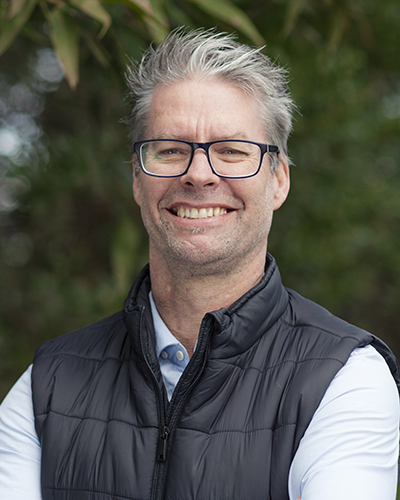 people behind the passion and what
makes them proud to be part of the work we do.
Introducing Stephen
I grew up on a farm in northwest Victoria and spent my youth and school days learning in a
little town called Jeparit. Jeparit is known for being the birthplace of the longest serving
prime minister of Australia – Sir Robert Menzies. At the age of 18, I finished school and moved
to Melbourne. I started working for a pre-press house as an apprentice in the trade of graphic reproduction. I worked there for 12 to 15 years and that's where I met Kellie.
The world of graphic reproduction at the time was quite interesting. We had photographic studios and we used to do a combination of work using photographic enlargers onto transparencies. We'd take a shot of a spinning wheel in the studio and then have to put that in manually onto an 11 x 14 transparency with the enlarger and use masking. So, all that was really fun times in the graphic reproduction field.
I also worked for a photographer doing post-production work using Photoshop. My skill set at the time was primarily Photoshop and the Adobe suite. I then worked as a project manager for a signage company before I moved to the Information Access Group about 18 months ago.
Just looking at the complexities and difficulties and limitations that are put on people with disability is enormous. I'm super appreciative that I've been given the opportunity to be in this space.
It's certainly created another level of stress being a project manager. Being on the tools and just focusing on one thing at a time and not having people come at you left, right and centre was quite rewarding. I found it quite relaxing as well. But going into project management has taught me a new level of being able to control myself and organise other people as well. I primarily taught myself a whole new skill set which I never had before. It was like I was climbing Mount Everest trying to get to that spot.
What creative things do you like to do now that you've transitioned away from a creative career and into project management?
I've always been very hands on and like to build things. I also like to create things digitally. My mum had a passion for photography and painting and the visual arts and I have a bit of a love of photography as well. But I like to create and build things in timber, wood, and even industrial design. When I say industrial, I mean I love to create and build things in and around the house. Architecture was one of my early loves and I would've dearly loved to do that as a career. I've always been very interested in industrial design and architecture, but I also enjoy creating things in Photoshop and doing things in that space as well.
What is your role at the Information Access Group?
My role is team leader and manager of major accounts. I lead a team of 6 people – we are the team of many wins. They're a great team and we primarily work on projects related to the Disability Royal Commission and the National Disability Insurance Agency.
What do you find most rewarding about the work you do at the Information Access Group?
The most rewarding work I've done is with one of my main clients, the Independent Advisory Council (IAC), and the products that we're supplying to them to help with their meeting bulletins.
What I'm most excited about is the HTML product that Larry has been able to develop. The IAC was one of the first major clients to take up that product. I'm super excited about how that product is now becoming more and more prevalent in various sectors and organisations and getting some uptake now.
I'm also excited that the IAC will be using our Easy Read video product. We're doing about 4 of their meeting bulletins as Easy Read videos and they're willing to test it with their members as well. It's going to be exciting to see how that new service offering gets taken up in the community. It'll be interesting to see if we can make a stronger shift away from PDF to using HTML as the main product and then potentially video. It's really exciting to be part of the journey of how we can make things better.
What was it like growing up on a farm?
I have a bit of a love hate relationship with the farm. It was certainly a space that I felt comfortable in and I enjoyed operating machinery. I was going to be a super spreader when I left school – you go around and spread fertiliser into people's paddocks and that sort of stuff. Mum wanted to get me off the farm because my second oldest brother was already there operating it with Mum and Dad.
Initially I did have quite a strong connection with the farm and enjoyed it, although it was quite isolated – growing up in that space you just think that's the norm. You don't realise how isolated you are until you come into a different community where you have lots of people around you. And you go back and think 'wow, this is really isolated'.
But I really enjoy that when you go back you see one or 2 cars a day, at best, traveling around the roads. I enjoy the open space, it's not like heavily wooded areas or forested areas, it's open farmland. I enjoy getting out into wide open spaces and not having anyone around me – you enjoy that more as you get older, I think. When you're in your youth you just want to go crazy with your mates and do all that, but you appreciate things more as you get older.
Where has been your favourite place in Australia to travel to, explore and hike?
Kellie and I went to Tasmania recently and did a series of walks in and around Cradle Mountain. I found that whole region through there quite mind blowing. That was a super exciting place to explore.
What did you want to be when you grew up?
I always wanted to be a helicopter pilot and that was one of the things I had a great desire for. But I soon found out I was no good with heights and suffered from motion sickness. So that put a fairly abrupt holt to that. Unless I'm taking a lot of drugs to mitigate my motion sickness, I don't think I'm going to cut it as a helicopter pilot. I was also interested in architecture and had a bit of a love affair with that as well.
---