Each member of our team is passionate about the role we play in making a positive impact in the community.
Learn more about the people behind the passion and what makes them proud to be part of the work we do.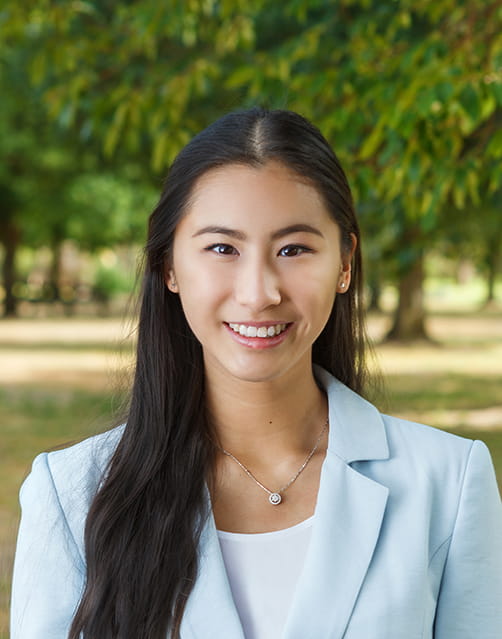 Introducing Fiona
I live in Southbank. I am a pretty creative person and I'm always looking for hobbies outside of work. I love exploring and trying new things, so you can usually find me visiting art galleries, at festivals, trying new restaurants or picking up a new hobby. I studied graphic design and business, where I majored in marketing. I'm currently studying a Master of Business Administration (MBA) and hoping that I'll be able to gain new skills to help me become a better leader.
What is your role at the Information Access Group?
I actually started as a one day a week casual graphic designer. I really enjoyed working with the Information Access Group and the work culture they have cultivated here was something that I really valued, so I became a full-time designer. I moved into a Design Quality Manager role, ensuring our design is accessible and completed to high standard. I want design culture to be more inclusive, more collaborative and more accessible. Currently I am a team leader and specialise in design projects. I also lead a team of 4 amazing designers and editors. Some of my clients include the Australian Bureau of Statistics (ABS), Australian Electoral Commission and some other government departments.
What project have you worked on that you are
proud of?
We recently did a project with the ABS for their privacy consultations. It was quite a large project with a lot of moving parts and different audiences to consider. We worked closely with the client and they were really happy with our products and enjoyed working with us. It was really nice seeing the feedback that came out of this project, from the focus groups to direct feedback from the consultations. I think that project really brought satisfaction to like … this is why I come to this job and work here every single day.
What do you find most rewarding about the work you do at the Information Access Group?
The impact we make. It is so gratifying to know that the work we do actually makes a difference and that we are helping our target audience actually receive and understand important information. Hands down, that is why I come into work every single day. It's so different to being in a regular design agency where everything's just go go go and you're churning out branding identity for big corporations. It just doesn't feel satisfying or like you're making a difference. You feel like you're a number sometimes. Whereas here, everyone is so valued, everyone has their own specialty and there's so much room to grow. I enjoy helping
empower people.
Are there other ways you contribute your design expertise in the community?
I currently volunteer with a group called Women of Colour Australia as a Graphic Design Lead. It's something I'm passionate about because I find that women don't really get much support in this area. I have a really solid foundation in accessible communications and I thought maybe I could expand in other ways and help them as well. I work with younger designers and help create content to support the marketing. Some of the important projects help empower women of colour in their careers.
Can you tell us about your journey as a dancer?
I actually started late, when I was 16. It's been a passionate hobby of mine for a long time. It's a good way to keep fit and it's great for socialising. I used to enter competitions in various styles like ballet, contemporary and hip hop. While competing is exciting, nowadays I prefer just taking casual classes. I mostly stick with commercial styles now and I occasionally teach or perform at showcases with a dance club.
You recently went on a month-long holiday in Japan. Can you tell us about the summit climb you did?
Mount Fuji was the most difficult mountain I've ever climbed. It was steep, cold and the altitude made it hard to breathe. We had to carry enough clothes for both 30 degree days and sub zero temperatures, water, climbing equipment and food supplies. I'm not an athlete, so it was a challenge both mentally and physically. The netizens (people on the internet) make it seem so easy! Every step was like 'I can do it. I can make it. We're almost there'. Just a lot of positive thoughts. The journey consisted of a 5-hour hike to a mountain hut where you sleep like sardines for another 5 hours. At midnight we hiked the final leg and arrived at the top at 3 am, where we waited for the sunset. It was gorgeous and very much worth it. The views were amazing. You could see the clouds rolling – they looked like fish scales. The journey
back down took 5 hours. After it I was like, I'm glad I did that but never again. How often can you say you have climbed a
mountain in the middle of the night? Now whenever I encounter something difficult, I say to myself that if I could do Fuji, I can
do anything else.
You have an adventurous streak – what other activities have you tried?
I do love exploring. I do a lot of random things and I love trying new things, so I guess that's where the adventurous stuff comes in. I have tried my hand at a few adventurous things, including surfing, fishing, sky diving, platform diving, camping, climbing and I even have a sailing license!
What did you want to be when you grew up?
I always knew I wanted to be an artist. I grew up taking art classes and it was one of those things that I just kept going back to. Painting and sketching really helps me de-stress and relax. In high school I took a range of creative subjects and found I enjoyed design the most because it's structured. It was also quite interesting learning about all the design schools and culture and there's a lot of history there. So that's why I chose to do design instead of being a straight artist. It was a natural progression from there into uni, then into my career. I guess I was lucky that I was able to like find my passion from a young age.
---