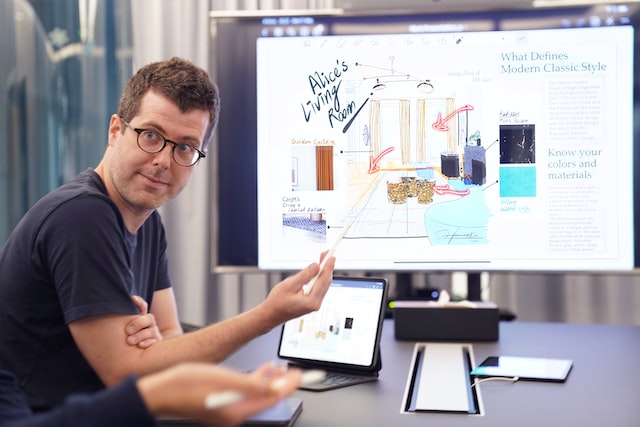 Most of us have the experience of attending long presentations that leave us feeling drained. Here are some tips to incorporate while preparing a presentation, to help keep it engaging and accessible.
Plan with your goals in mind
The purpose of your presentation should be clear. List your objectives, including the impact you want to have on your audience. Do you just need to communicate information, or are you trying to persuade them? What is relevant to the audience? Why should they listen to you? You can state the outcomes of your presentation at the beginning of your presentation to show the audience you care what they think and want to deliver a positive impact.
Using visual aids like a PowerPoint
You should be the main focus of your presentation, not your slides! It can be more engaging for a presenter to talk from memory. This makes the presentation feel more like a conversation with the audience. However, as this is not always possible in the business sphere, we have put together some tips to help you make your presentations more visually appealing
and attention-grabbing.
Maximum seven items per slide
Have you heard of 'The Magical Number Seven'? This is a paper written by George A. Miller of Harvard University in 1956. It hypothesises that humans have a cognitive cap which allows only a few pieces of information in our working memory at once. Since it was published, further studies have been conducted to show that sometimes things can be more complicated than that, but the main point still holds up.
Human brains have trouble processing seven or more items at once. To make sure your audience is not overwhelmed by information, try to keep the number of items on each slide of your PowerPoint to six or seven. For instance, you might have six bullet points. The text in the bullet points should also be as concise as possible.
Calls to action
While planning, make sure the purpose of your presentation will be clear to the audience. Once you've finished presenting, your audience may be left thinking "Ok, so now what?". You should come up with some concrete steps to help them put the content to use and include them near the end of your presentation. The clearer your instructions are, the more easily they will be able to use your information in the way you want them to.
It can also be helpful to remind the audience of why your presentation should be important to them personally. You could
prepare a story to demonstrate a problem or a need for action. If you can create something emotionally moving it will be even
more effective.
Preparing for accessibility
People with disability have a right to access presentations. But accessibility can be beneficial to everyone, not just those with disability. Making content clear, concise, easy to hear and see, and available in multiple formats, will allow participants to get the most out of your content.
When creating materials for a presentation, aim to meet at least level AA of the Web Content Accessibility Guidelines (WCAG). You should add alternative text to images and mark up headings. Slides should have a consistent design, good contrast and minimal content in a large font. The less text you put on a slide, the easier it is for everyone to understand. Text should also be written in plain language. Include an overview at the start and a summary at the end to make information more digestible.
Provide digital materials in multiple formats in advance so participants can be familiar with the materials before the presentation. Avoid providing materials in PDF format because these may not be accessible even when tagged. Customisable text like HTML or a Word document is preferable. Later, you can provide audio recordings and transcripts of the presentation.
Make sure you are using an accessible remote meeting platform if you are giving your presentation online. Arrange for service providers like captioners and interpreters where needed.
---