By David Saxberg, our Inclusion Advisor.
David is totally blind and uses a screen reader daily. In his article below, he shares some insights about his experiences navigating websites and gives some tips for improving accessibility and user experience.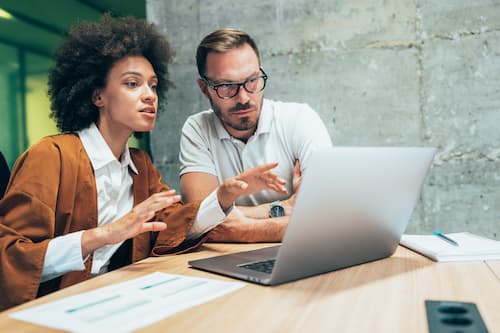 I love the internet. It allows me to communicate, research, learn and – in my case – work remotely from beautiful sunny Queensland. However, sometimes the experiences I have with websites, online portals and other online activities leave me frustrated because they're not accessible. It's disappointing to navigate through a website that hasn't got alt tags, has non-labelled links and a heading structure that doesn't work. If I see these types of sites, there comes a point where I will leave the website and never return.
User experience is important
I believe it should be enjoyable to access online content. From looking at the latest weather forecasts to reading sport articles, news reports, forums, and blogs about my great passion – transport. I really enjoy using the web and I want all users to have the same experience. If you want people to come back to your website, you can start by addressing some of these common issues.
Label links
I find it so difficult to work out where a link is leading to if it's unlabelled. Does it take me to another page? Does it expand a sub-menu? I don't know. If the link was correctly labelled, I could make the choice to click on it or to skip over it. Rather than 'click here', use a descriptive label for buttons and links such as 'this article on the Information Access Group website'.
Headings
Using keyboard navigation on a website is slower than just pointing and clicking with a mouse. Fortunately, screen-reading software has incorporated keyboard commands to allow users to move from one heading to the next.
However, if the website isn't built correctly, a user must tab, swipe, or arrow through the website to find information. This slows the reading experience dramatically and prevents the user from being able to scan for the information we need. When this happens to me, I usually leave a website and look elsewhere. Ask your web developer to make sure your headings are correctly labelled and nested. This means the most important heading is labelled as H1, the next sub-heading is labelled as H2 and so on. You can find out more about this on the World Wide Web Consortium website. Now that's a correctly labelled link!
Alt tags
They say a picture is worth a thousand words. Well, it's not if there aren't around 20 words to describe the picture for us totally blind computer users. It really is frustrating to hear titles like 'image'. I would like to know what the images are. I feel like I am excluded from the experiences of other website users. Maybe the images are beautiful, maybe they are relevant and provide context for the text that I am reading. Either way, it is so important to have alt tags and alt text available for the screen reader to pick up and read to us blind users. Label your images with a description of what is happening in the image. A couple of sentences is fine, as long as they include the details that are relevant to text the image supports.
Tables
Having the rows and columns labelled makes it easier to read and understand what is written in the table. Trust me, I love tables! I think that they are a great way to display information so that users can skim read and find what they are looking for. By having the rows and columns labelled, screen-reader users can skim read as well. Screen readers struggle with cells that are merged or split, so just stick with the original number of rows and columns to ensure a smoother experience for the user.
Colour contrast
You might be thinking: why does a blind person care about colour contrast? This is because not all people who use screen-reading software are totally blind. Some people use a screen reader because they have low vision, dyslexia, or low literacy skills. Use a text colour that contrasts sharply with the background to make it easier for people to read and enjoy your website.
These tips are a great place to get started. If you would like to catch up with me to chat more specifically about your website, you can set up a free half-hour session by making a booking in my Appointlet calendar.
---