Easy Read National Disability Strategy and Action Plan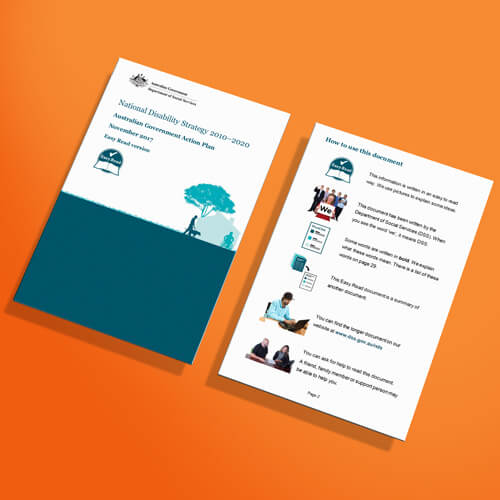 November 2017
The National Disability Strategy 2010 – 2020 (NDS) is an initiative of the Australian Government Department of Social Services (DSS). It aims to drive a more inclusive approach to the design of mainstream policies, programs and infrastructure so that people can fulfil their potential as equal citizens.
Since the NDS was released in 2010, DSS has produced two implementation plans to explain what they've been working on:
Laying the Groundwork 2011–2014
Driving Action 2015–2018.
At the moment, DSS is working on ideas from the second implementation plan and has called it the Government Action Plan. This plan represents the Australian Government's commitment to actions that will drive implementation of the NDS within Australian Government portfolios.
We had the privilege of converting this document into Easy Read, which will increase accessibility to a wider audience, especially people with intellectual disability and adults with low levels of literacy. You can find the Easy Read version and other DSS resources on the DSS website.
---