The Royal Commission Easy Read Terms of Reference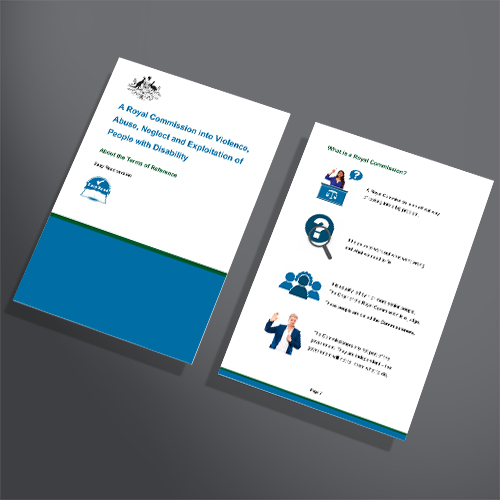 April 2019
On Friday 5 April 2019, the Australian Government launched the Royal Commission into Violence, Abuse, Neglect and Exploitation of People with Disability. This announcement came after consultation with people with disability, their families and carers. These consultations helped to define the scope of the Royal Commission and confirm the Terms of Reference.

We had the privilege of creating an Easy Read version of the Terms of Reference. This document includes information about what the Terms of Reference ask the Commissioners to look at and the potential changes that may be made after the Royal Commission has ended.

We also created an Easy Read fact sheet about the Royal Commission. This fact sheet includes information about what people said during the consultations, what changes were made as a result of these consultations and how people with disability will be supported during the Royal Commission.

You can read the Easy Read Terms of Reference and the Easy Read fact sheet on the Attorney-General's Department website.
---