When it comes to accessibility, we usually think of PDFs and Word documents. But there's another format that's as accessible and easy to navigate – webpages in HTML. We look at what HTML is, its benefits, and why you should think about having HTML content.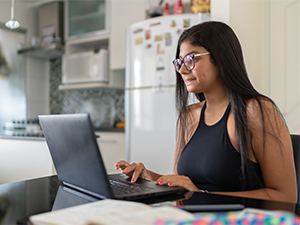 What is it?
HTML is the document format of the internet. Whenever you look at a webpage in a web browser, such as Chrome, Firefox or Safari, you are looking at HTML. An HTML version of a document is a webpage.
You can include other media and tailor your HTML content to suit your purpose, such as:
images
videos
social media posts
surveys and forms.
Why does HTML work well?
Reduced wait times
HTML works anywhere and on anything – all you need is a smart device and an internet connection. Even if you have slow internet or an old smart device model, HTML webpages will load in stages. This allows readers to engage with your material from the get-go. By comparison, you must wait for an entire PDF or Word document to download before you can start reading it.
Content to fit your screen
Webpages are flexible in how they show content. For example, if you read a webpage on a phone then the information's appearance will adjust to suit a smaller screen. This allows authors to publish a single webpage that works for everyone, regardless of the device. By comparison, a user would need to zoom and move to view a PDF on a phone.
A friendly interface
One of the benefits of publishing a webpage is that you don't need specific software to read it. All you need is a web browser of your choice. This promotes accessibility and strong engagement with everyone, especially:
screen reader users
people who don't have access to specific software, like Adobe
people with poor internet connection
people with older smart devices.
From an accessibility perspective, most screen reader software works with HTML content. HTML uses tags and elements to tell a browser how to display content. This allows a screen reader to read out the content only. By comparison, a screen reader will read out the styles and content in a Word document.
Webpages let you use hyperlinks to direct readers to other parts of your document or website. It's best practice to keep the reader in the same browser when they read your document.
Sign and send with a push of a button
Sometimes when we sign a digital or online form, we must download the document, sign it, then either upload it to a website or send it via email.
If your form or survey is in HTML format, it becomes accessible for users and is easier to navigate. With an HTML form or survey, you can add the information required then send it off with a push of a button. It's a streamlined hassle-free process that's more accessible to everyone. You can use HTML surveys or forms regardless of your device or internet connection.
Easy editing
When changing an online document, downloading, editing and reuploading can be time-consuming. With HTML content the process is simpler. All you do is make the required changes to your HTML, save, then refresh your browser.
You don't need any specific programs to make the changes, like you would with a Word document or PDF. All you need is text editing software. These programs are usually installed on most devices already. But if you don't have access to one of these programs, then there are many free notepad programs you can download.
Getting recognised
HTML documents can boost your search engine optimisation (SEO). If your HTML content has clean and valid code, then your information will be easier to look up (Sand, 2018). More than 90 percent of people using smart devices browse the internet (ACMA, 2020). This can mean someone outside of your current audience might read your HTML content.
There are many ways you can start using HTML for engaging and accessible information. Speak to one of our HTML content experts to discover more about the wonders of webpages in HTML.
How can I get started with HTML?
The simplest way to make a HTML version of your document is to insert the content directly into a webpage.
For larger documents with more design applied, it may be worth engaging the services of an expert in web development for accessibility.
---