The Programme for the International Assessment of Adult Competencies (PIAAC) is held every 10 years. The Organisation for Economic Co-operation and Development (OECD) coordinates the survey and, in 2012, Australia was one of 24 countries that took part, along with the US, the UK, Canada, Japan and South Korea.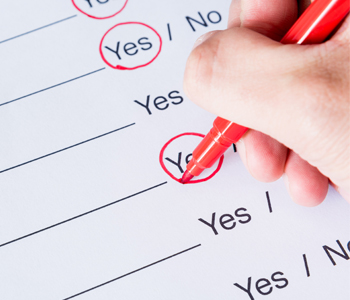 Data from the survey is used by governments, businesses and the wider to community to understand the levels of literacy in our community. This data can be used to make workplaces more productive, allocate funding where it's needed most and identify gaps, as well as what might be causing them.
Planning for the next PIAAC started at the beginning of this year, with the survey to be run in 2021 and 2022. There has been some debate among those that work in adult learning around the value of the survey. However, there seems to be agreement that the data collected is important and that the information can benefit those in need of support. The Australian Council of Adult Literacy (ACAL) has reported on these different opinions in the conversation starter on their website.
We are surprised and disappointed to discover that the Australian government will not be taking part in the next survey. How will gaps be fixed, and sections of the community that are falling behind be supported, if we don't know who needs the help? Ten years is a long time between surveys. Do we want to wait until 2032 to know how we're tracking internationally?
What is PIAAC?
PIAAC is an international survey that gives us information on the skills and abilities of people aged 15 to 74 years. The last survey included 24 countries around the world and looked at:
literacy
numeracy
problem-solving in technology-rich environments.
The literacy results help us to understand the relationship between literacy levels, people in the workforce and other factors such as age and languages spoken.
Australia's results
In the 2012 PIAAC, Australia did quite well for literacy, coming in fourth out of all surveyed countries. However, we didn't perform so well for numeracy – we came 13th out of all surveyed countries, which was just below the OECD average for numeracy skills.
However, the value of the data is in the detail, which showed that, not surprisingly, those with higher levels of education have higher levels of literacy. But also, that older people have lower levels of literacy than younger people and that literacy levels get progressively lower for people in their late 40s and older.
The data also showed that people whose first language was not English were more likely to be at the lower skill levels. Twenty-five per cent of people in this group had literacy levels of Level 1 or below, compared to 12 per cent of people whose first language was English.
And, like most countries that took part, there are people in Australia who have very low levels of literacy and numeracy – 14.1 per cent of Australians have the lowest levels in literacy and 20 per cent in numeracy.
PIAAC is an important survey, for tracking trends, declines and improvements. It helps to identify those who most need support to get the skills they need to work and take part successfully, and easily, in our society.
Adult Learning Australia (ALA) and the Australian Council of Adult Literacy (ACAL) are urging the Morrison Government not to withdraw from PIAAC. You can read more about their campaign to get Australia back into PIAAC on the ACAL website.
You can also read more about PIAAC and Australia's results on the Australian Bureau of Statistics website.
---