Communicating clearly to everyone at once can be a tricky task. When coronavirus (COVID-19) emerged in March 2020, it became clear there was a need for all levels of government to provide inclusive communications to everyone at once.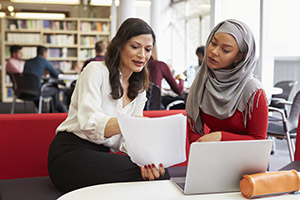 This included:
people with disability
First Nations peoples
culturally and linguistically diverse communities (CALD)
people of all ages with low levels of literacy.
COVID-19 has shone a light on the barriers some people experience when trying to access information. However, there are ways to achieve more inclusive communication and to reach everyone at once.
Work with CALD communities. Around 21 per cent of all Australians speak a different language at home. To work toward breaking down the barrier and create social unity, working as a team with CALD communities can help.
When it comes to translating, there needs to be localisation. This means you contextualise the content being communicated to better engage the target audience.
Include the community in the planning of information and do testing to assess how effective the messaging is before it's announced and released to the public.
It's also important to understand that the literacy levels of people who speak a language other than English are different. Many people would benefit from a simplified version of the content in their own language. For example, an Easy Read or plain language version in alternative languages. You can find out more about this in our article Have you considered Easy Read for your language translations? You can also find an example of this approach in a project we completed recently with translation company Ethnolink. We worked closely with Ethnolink to provide Easy Read resources for WA Police in Arabic, Simplified Chinese, Swahili and Vietnamese. You can check them out here.
Applying an inclusive communication approach not only benefits CALD communities, it benefits everyone – including business, governments and the wider community.
---